General FlexBind® Printing Guidelines
Paper Orientation while Printing
The hinge should be along either the back or the front of the press while printing to improve toner/ink transfer into the recessed gap. See Illustration.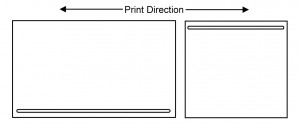 Feed Drawer Stacking
Fan stack before loading into the feed drawer. If excessive blocking occurs, verify storage conditions are in compliance with guidelines.
If possible, assign a drawer to FlexBind® sheets to prevent excessive handling during repetitive loading and unloading between jobs.
Wedges and stack tilt devices are unnecessary since FlexBind® sheets are perfectly flat and produce no stack bias.
Ream Handling
Do not flex the hinge before printing
Do not straighten stacks of FlexBind® sheets by resting the stack on the hinge side of the sheet.
Trimming
Trimming can be done individually with an in-line trimmer or by stacking multiple books and guillotine cutting the stack.
The indented laminated hinge allows for stacks of FlexBind® sheets to be cut simultaneously without stack bias.
Be sure to use a sharp knife to cut the film cleanly without tearing.
Trim 4 sides of the sheet. Be sure to cut the spine of the FlexBind® page to the proper width for the intended binding method.
Image position
Image placement on the FlexBind® sheet should be centered in the hinge gap, or printed over the gap. See illustration.
If there is difficulty getting toner transfer into the recessed gap, it is recommended to print only to the edge of the gap. (See #1 below)
Images extending across the binding will need to be individually verified for registration.
Setup on different paper so as to not waste FlexBind® sheets
The image should be printed on the laminate as necessary. The laminate is coated to be toner receptive.